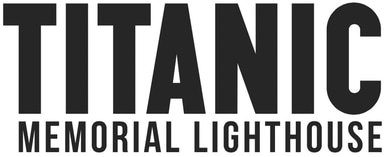 Following the sinking of the RMS Titanic in 1912 a memorial lighthouse was erected atop the Seamen's Church Institute in memory of the victims.
The loss of such prominent citizens as Isidor Straus (co-owner of Macy's), John Jacob Astor IV and Benjamin Guggenheim was profound. ​
Within days a memorial lighthouse tower was announced with public fundraising undertaken by the Seamens Benefit Society. ​ The lighthouse was dedicated in a ceremony on 15 April 1913 attended by supporters and well-wishers, politicians and clergymen, survivors and family of those lost on Titanic.
Measuring 60 feet tall, the lighthouse originally stood on the roof the new 13-storey Seamen's Church Institute shining a fixed green light—not yellow or white—through three rows of rectangular windows. At five minutes before noon each day a signal was received from the Western Union offices and the ball rose to the top of its rod. Precisely at twelve another signal triggered the ball to drop.
The Times remarked that "the man in the street will adjust his watch, the sailor in the harbor will set his chronometer, and the binoculars at Sandy Hook will be trained on the glinting flash. And how many in the throng will remember, as they look, that once on a midsummer night a boat called the Titanic sank to the bottom of the sea carrying her freight of human cargo with her?" ​
The lighthouse stood shining its green light and dropping its noontime ball for decades until in July of 1968 the Institute relocated to new offices and the old building was slated for demolition. The Kaiser-Nelson Steel & Salvage Corporation, which had contracted for the work, donated the historic lighthouse to the South Street Seaport Museum.
With a $200,000 donation from the Exxon Corporation, the lighthouse was erected on a concrete plinth in a park at Pearl Street in May 1976. The lighthouse looks somewhat out of place today, its green lantern is dark and the time-ball no longer falls at noon. But tourists and New Yorkers alike pause occasionally to read the bronze plaque there and realize its original purpose. As The Lookout magazine said in 1913, "in a busy, careless city the average person so soon forgets."